Welcome To
The Charlotte-Genesee Lighthouse
Thank you for your interest in the Charlotte-Genesee Lighthouse. During the summer of 2014, Phase One of our tower restoration was concluded. The lantern room was removed from the tower so that brickwork at the top of the tower could be completed. While the lantern room was on the ground, we took the opportunity to restore it as well. Due to the generosity of a private donor, a replica lens was purchased and placed in the tower. The lens was dedicated to John Ochs and Benjamin O'Brien, two founding members of the Charlotte-Genesee Lighthouse Historical Society.
THE CHARLOTTE-GENESEE LIGHTHOUSE HISTORICAL SOCIETY
2018 CALENDAR OF ACTIVITIES
Information As of June 17, 2018
JOIN US AT ONE OR MORE OF THE FOLLOWING COMMUNITY EVENTS!
JUNE:                             
Monday, June 18                    Greece Historical Society hosts the 45th Annual Strawberry & Dessert Tasting Festival   4:00 pm to 7:00 pm
Join us at the Greece Historical Society Museum at 595 Long Pond Rd., Rochester, NY 14616.  The Lighthouse will have a display table with literature and models of the Lighthouse.  Stop by and say hello.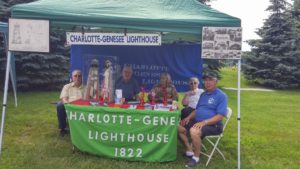 Tuesday, June 26                    Irondequoit Concert Band Performs at the Lighthouse – FREE Event
(No Rain Date)                       "MUSIC TO MAKE YOU SMILE".  They will play marches to Broadway to rock, there is something for everyone, and maybe even some musical surprises.  David Schantz is the director of this 65-piece band that has been entertaining the community for over 40 years.  The concert is FREE and open to the public.  Bring a chair and a friend to relax and enjoy fun filled summertime entertainment?
Grounds/Keeper's House /Tower Open for Tours   (FREE)                                                                                                     5:30 pm-7:15 pm
Irondequoit Concert Band                                                                                                                                                                  7:15 pm-8:15 pm
JULY:                                
Tuesday, July 17                     Rochester Red Wings Camp Day                                                                                           11:05 AM – 2:00 PM
We are excited that once again the Red Wings has invited us to have a display table at Frontier Field.  We will have Lighthouse information available, stickers for the kids, hand outs of community events in the Charlotte area.  Stop by and say hello to our Volunteers.
Saturday, June 21                    Summer Fest @ Ontario Beach Park                                                                                      11:00 am– 8:00 pm
Car Show; Entertainment; Wine Tasting; Boat Show, bands playing at the Gazebo, events for the kids and many more events. Lighthouse will have a table with display in one of the community shelters. There will be a boat parade at 6:30 pm.
AUGUST:                        
Sat., Sept, 18                           International Lighthouse Lightship Weekend                                                                     11:00 am-5:00 pm
Sun., Sept 19th                         The Rochester Amateur Radio Association will be operating the ILLW weekend.  They will demonstrate how to contact other HAM radio operators that will be operating at various Lighthouse's or Lightships around the world.
OCTOBER:
Sunday, October 28               Last day of the season for regular tours.  Lighthouse will be closed for the Season.  Call the Lighthouse for Special Tours or if you need any information about the history of the Lighthouse or Charlotte area.
DECEMBER:
Saturday, December 8            Christmas Sale at the Lighthouse-More information coming                                             1 p.m. – 4 p.m.
We have established new dates and times to help make it more convenient for visitors. There are new displays both inside and outside the museum.
Find out how to reach from various directions and a Google Map to find us easily, You an always call or email us ahead to get more information.
We host a number of events each year, In our Calender you can find when a event is happening and plan your visit accordingly.
Donate to The Charlotte-Genesee Lighthouse Historical Society
Become a member of the Charlotte-Genesee Lighthouse Historical Society and help preserve and interpret America's oldest surviving lighthouse on Lake Ontario for thousands of visitors who come to explore our site each year.
Donate now and help us carry forward the mission of the Lighthouse Society